Farmer Brown is a Broker for Captive Resources, America's Alternative Insurance Specialists. Captive Resources is one of America's leading managers of heterogeneous and homogenous Insurance Captives. Our at goal at FarmerBrown is to provide our clients with the best risk management services in the business while controlling their bottom line insurance costs. From heavy construction to retail type operations, we can craft a package for your workers compensation, general liability and commercial vehicle coverage.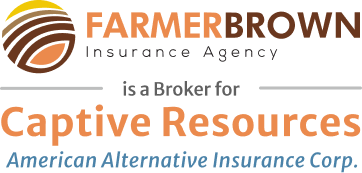 Please call us to set up a consultation to find out if an insurance captive is a good fit for your business. It is possible that we can put back in your pocket hundreds of thousands of dollars that would have been spent on conventional insurance costs, in just a few short years. Better still all your certificates of insurance will still list well known "A" or better insurance carriers, so you will never have an issue with a client. Below are some of the classes that fit us best:

Homogenous Captives
Heavy Construction
Transportation
Ambulance Services/Nursing Home
Roofing Contractors
Heterogeneous Captives
Restaurant Service
Artisan Contractor
Hotel/Motel
Manufacturing
Wholesalers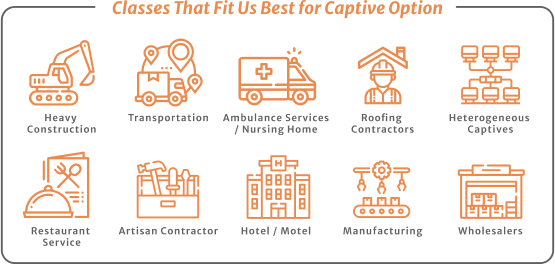 Why Chose Captive Option?
Is your business the "One Percent"? Well, at Captive Option we are looking for businesses in the One Percent of the One Percent. We understand the entrepreneurial spirit and pride that drives you every day to improve your business. In operating a successful business you know there are challenges that you must meet every day and you meet those challenges head-on. That is why your business is successful today.

One of the greatest expenses you currently have brings you always a zero rate of return, and that is the business's insurance costs. Each year hundreds of thousands of hard earned dollars are spent on insurance. Invariably each year this insurance costs continue to spiral upward in cost, even if you have no claims. What if there was a way to continue to pay the same amount you currently pay for comparable insurance, and have the ability to have hundreds of thousands of dollars put back in your pocket each year. Well that is what Captive Option can do for your business, by qualifying you for one of our may industry specific captive insurance groups.

How could this possibly be true, you are wondering or this sounds to good to be true. Well in a nutshell, with a general business insurance policy all similar businesses are classified in the same code i.e. good apples are in same bushel as the bad apples, therefore the good apples (you) subsidize the bad apples insurance rates. Captive insurance groups only take the good apples and the insurance companies know this, therefore the captive group gets an even lower rate, because the major insurance companies fight amongst themselves to get this business because the loss rate is so low.

As a result of your superior management skills and attention to detail, your actual insurance claims will be lower than the industry average. As a member of a captive these attributes are rewarded with a return of a portion of the premiums paid. Stop rewarding the insurance companies with your money for your excellent claim history, take your money back now!
The Benefits of Working With Captive Option
Captive Option works with markets that currently place over 80% of the current Captive insurance now in force.
All your certificates of insurance will name "A" or better well known insurance carriers.
Ultra professional service at all times.
Knowing that 97% of all insureds continue each year with their insurance.
Builds an off shore nest egg for all premium returns.
About Us
Captive Option is operated by the John M. Brown Insurance Agency Inc. Captive Option was formed specifically to address middle market business owners motivation to find solutions to their insurance needs. Licensed in all fifty states we have the ability to meet all your insurance requirements.

Captive Option assists prospective captive participants in evaluating, and implementing captive solutions. The Agency has relationships with experienced and prestigious insurance managers, actuaries, underwriters, and accountants who specialize in captive insurance arrangements.
Nearly all major corporations have at least one captive insurance company. Some corporations have multiple captives that serve different risks. It has been a relatively recent development of captive insurance companies expansion into smaller business, and the growth has been explosive in this area.

As a middle market business, if you do not have a Captive Insurance Plan in place, you will fall behind by your competition. Insurance industry trends indicate a significant movement away from traditional insurance solutions by middle market businesses over the next few years. The growth of captive insurance and related risk transfer mechanisms has been driven relentlessly by businesses seeking to better manage insurance needs, including cost, coverage, service and capacity.

Captive Option industry-leading insurance professionals support your business every step of the way. We have the right team of professionals to ensure that your business finds an alternative risk management strategies that are the optimal solution for your business. You have worked hard to build your business, let the team at Captive Option work as hard for your business as you do.

If you still have any question about Captive Option, give us a call
or set up an appointment with Farmer Brown Insurance Agency Owner.