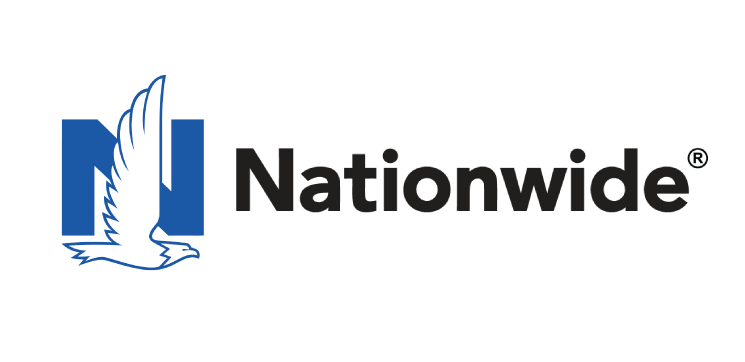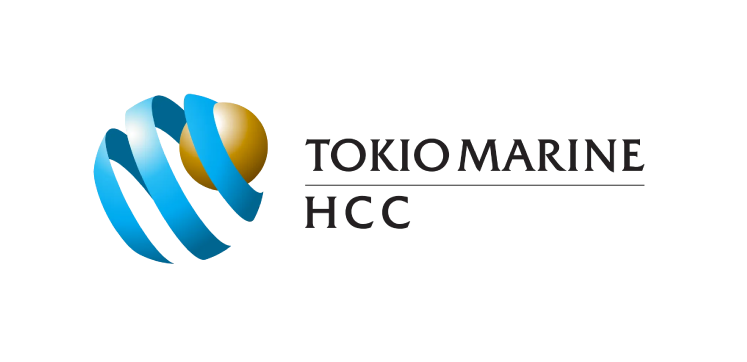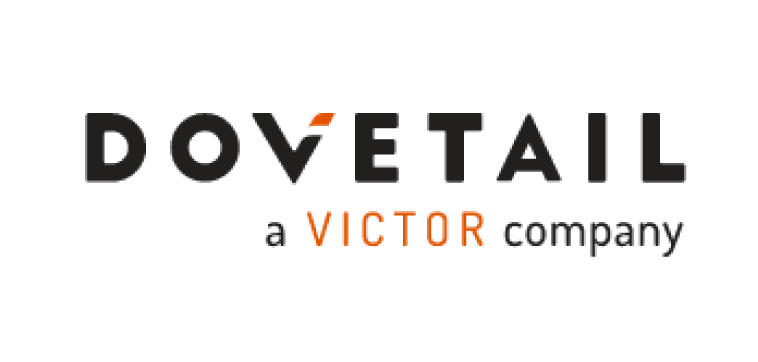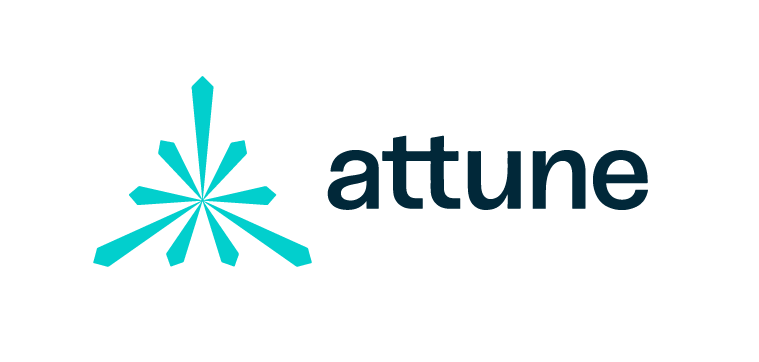 Affordable Commercial Truck Insurance
FarmerBrown.com is a leading provider of low-cost Trucking Insurance products for both the long-haul trucking and Short Haul Trucking industry. We specialize in cheap Insurance for Owner-Operators.
As you are aware, the trucking industry has become much more competitive. You are operating on razor-thin margins. You need to reduce costs to stay in business. A good place to start is an exhaustive review of your current insurance coverages and premiums.
What type of insurance does a Trucker need?
At FramerBrown.com we have a number of low-cost options for Trucker Insurance. Below is a list of the most common types of insurance purchased.
Physical Damage

Being on the road means you are subject to a great number of hazards. These include damage in an accident or from severe weather, to vandalism or theft. Affordable Trucker Physical Damage Insurance is offered nationwide. Be confident in the knowledge that wherever the road takes you, your truck is protected.

General Liability

Since society is becoming much more lawsuit-happy, Trucker's General Liability insurance is becoming more important. It pays for injuries or property damage you cause as a result of business activities not directly related to operating your truck. As you already own your business you know how crucial General Liability insurance is. However, you might think you only have coverage for accidents that occur at your business's physical location. This is not the case. While you will be covered if a customer or other third party is injured on your premises. You will also have coverage with Trucker's General Liability Insurance for a number of situations that can happen away from your physical location. These include:

Delivering a load to the wrong place.
Drivers getting into fights while on the job or causing property damage to third parties.
Drivers committing liable or slander against competitors.
Although these situations are not common, General Liability Insurance for truckers will cover you in these situations. Remember it will also include coverage for legal fees for your defense along with any covered claim that you are held liable for. Everyone knows how quickly legal fees can add up so make sure you are protected with an affordable Trucker's General Liability Policy from FarmerBrown.Com

Non-Trucking Liability Insurance

This is liability insurance that covers you when you use your business truck for personal use. Like if you use your truck to run personal errands. Since you are not driving for business purposes, there is no coverage under your trucker's liability or business auto policy.

Bobtail Insurance

Driving your truck without the trailer attached is known as bobtailing or, deadheading. Semi Truck owner-operators who make deadhead trips are usually required by their motor carrier to have special coverage, known as Bobtail Insurance. Bobtail insurance is different then non-trucking liability insurance, even though the terms are often used interchangeably.

Medical Payment

Trucker's Medical Payment Insurance covers for medical bills for you and any passengers in the truck if hurt in an accident or auto-related injury.

Motor Truck Cargo Insurance

Low-cost Motor Truck Cargo insurance provides insurance on the freight or commodities hauled by you. Most risk managers require truckers to insure their cargo. You can meet that requirement with an Affordable Motor Truck Cargo Insurance policy from Farmerbrown.com. It will provide coverage when you are responsible for covered damage to or loss of the cargo that you transport on behalf of a client. It also can cover clean up and protection of spilled cargo. Further, you may also be able to get coverage to pay you the amount you would have earned if the delivery had been completed. Get your Trucking Insurance quote now
Is trucking insurance required?
No matter your experience obtaining Trucking Insurance is always a hassle for any operator. The starting point to getting the right coverage is learning the regulatory minimum requirements. Remember these are only minimums, in most situations you should have additional coverage to protect your business from unforeseen losses. No matter how careful you are, accidents can and will happen.
Many operators follow the recommendations from a knowledgeable insurance agent. However, it's still up to you to make sure you have the right coverage. Having the best Affordable Truckers Insurance will protect you during and after an accident.
The Federal Motor Carrier Safety Administration (FMCSA) establishes the minimum trucking insurance requirements. These specifications vary depending on the weight, commodity, and your transport business.
The FMCSA requires primary liability coverage when you operate a trucking company. This coverage protects third parties from accidents where the truck driver is at fault.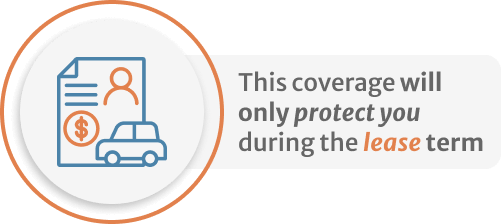 If your truck is under a lease, you will also be required to carry secondary liability insurance. Remember this coverage will only protect you during the lease term. It is also important to note that your contracts with the shippers and brokers you work with may require higher limits on your policy. It is also best to send your insurance the relevant parts of any contracts you have to make sure you have the limits you need.
The requirements that the FMCSA  are as follows:
Carriers of Non-Hazardous Cargo

The FMCSA requires coverage of at least $750,000 for trucks that weigh more than 10,001 pounds. You must meet this rule if you will carry  Non-Hazardous Cargo across State lines.

Carriers of Hazardous Materials

The FMCSA requires higher limits if you will transport hazardous materials. These coverage limits apply to carriers of all materials the DOT deems hazardous.
The FMCSA requires insurance coverage of at least $5 million if you transport hazardous materials. These requirements apply to all truck weight classes. This applies to transport between countries, intrastate, and interstate.
Complete information can be found by visiting the FMCSA WEBSITE.
Commercial Truck Insurance Requirements
Your minimum required Commercial Truck Insurance limit depends on the type of freight you haul.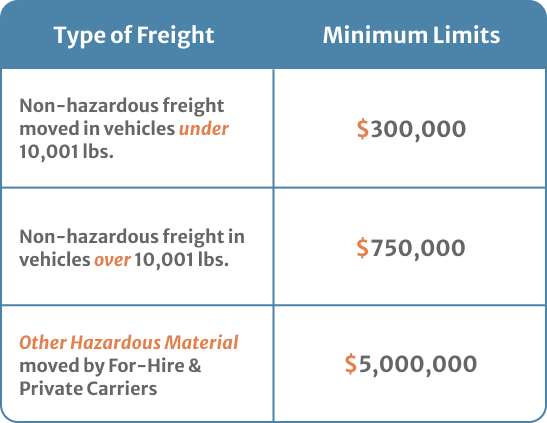 These are just the minimums required by law. These amounts might not be right for your situation. Only after discussing your situation with an experienced agent, they will help you determine what limits are right for you. Also, remember that any contracts you have may require you to purchase limits higher then what is stated here.
How Much Is Trucking Insurance
Truck driver's insurance cost for a leased owner-operator is about $1,600 per year.
The cost of your truck insurance will be based on your driving record, your credit score, the type of truck you operate, the cargo you haul, and your area of operation.
The payment plan of your choosing, individual coverages (more expensive) or bundle coverages(cheaper) will determine the overall cost of your truck's insurance.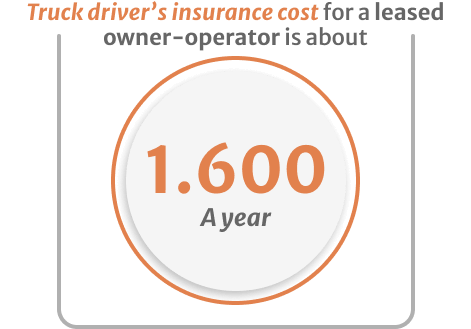 The value of your truck is an important component. New and more expensive trucks will increase your overall rates compared to a truck owner with a similar situation and a lower cost truck.
How much does trucker's tractor-trailer insurance cost
Tractor-trailer insurance covers the risks of operating a tractor-trailer. Accidents involving a  tractor-trailer can cause major property damage to your cargo, property, and third parties' property. Further, if people are involved in the accident there is a good chance you will be hit with personal injury lawsuits.
It is imperative for you to choose the right insurance for your truck and trailer.  This will protect you from the medical, repair bills, and the cost of your legal defense for covered claims. You also can get protection from uninsured drivers.
Leased owner-operators can typically get a policy to cover their tractor-trailer for around $3,000 a year. This cost can change dramatically depending on the type of truck, driving record, area of operation, and types of cargo hauled.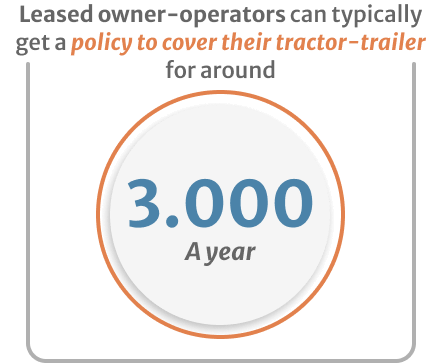 How much is Trucker's Insurance for an owner-operator?
The average cost for owner operator's insurance is all over the board. If you have your own authority, you may pay around $10,000 a year.
This cost can depend on a wide variety of factors. The factors are pretty much the same to determine the price as the other types of insurance. These are:
Type and price of the Truck
Your driving record
Type of cargo hauled
Your geographic area of operation
Your age and credit score
Amount of coverage required.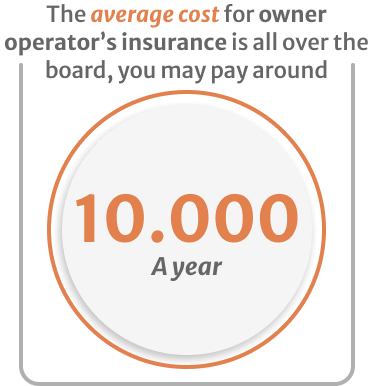 Give one of the agents at FramerBrown.com a call and they can get you a more exact quote based upon your unique situation. It will only take a few minutes and could save you thousands of dollars.
What Are The Key Benefits Of Choosing FarmerBrown.Com For Cheap Trucker's Insurance
We have experienced team members that can analyze and recommend the appropriate coverage for your Trucking Insurance needs. Whether you are one-man show or have a fleet of 100 trucks, all business assets need to have some type of protection. Protecting your valuable physical assets with quality affordable Trucking insurance coverage is what we do. We are here to help customize that coverage to your needs.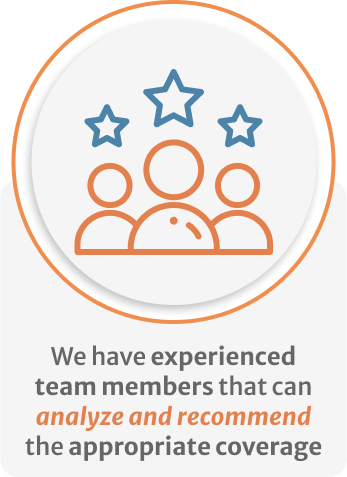 Our team members are professional and knowledgeable and able to help you choose the perfect policy for your Trucker's Insurance needs.
Being a Truck Driver requires specialized a policy to cover your unique needs
Flexible agents to work on your time schedule.
We provide easy online payment options.
We are licensed in all 50 States to offer Trucking Insurance.

Same day service in most cases.

Get you license in under an hour.
"A" Rated insurance companies that pay claims quickly.

FarmerBrown.Com has the capability to provide quotes for the hard to place risks and get you insured quickly and conveniently. We have the experience to analyze and recommend the appropriate Low-Cost Trucking  Insurance Coverage.  Call now to speak with a knowledgeable agent. Our experts can review your needs and get you the proper coverage your business deserves. They will make sure you have the coverage you need at the best price for you. Best of all, you can get a free, no-obligation quote in minutes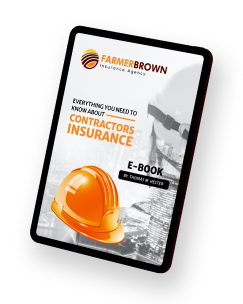 Everything you need to know about Contractors Insurance is here, in one place. Get the Ebook Now.