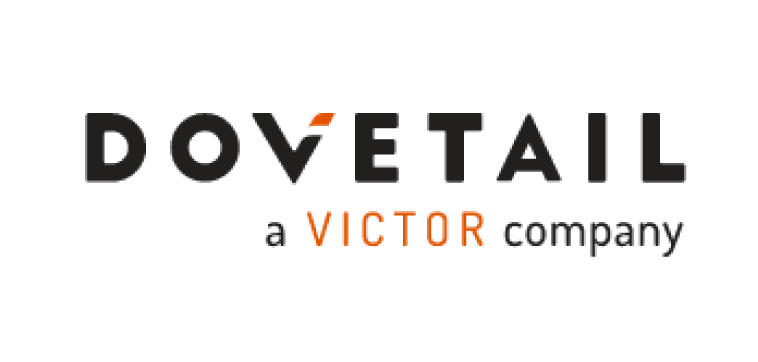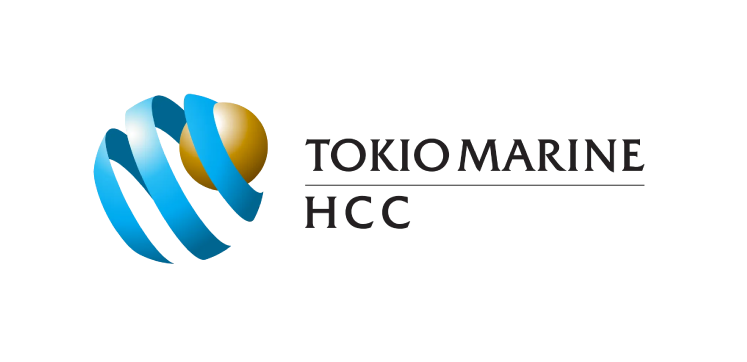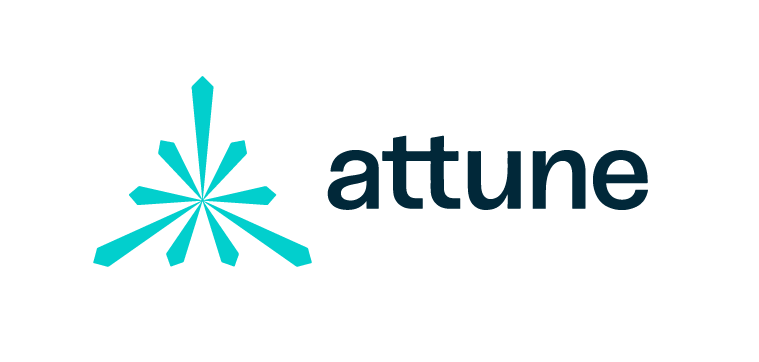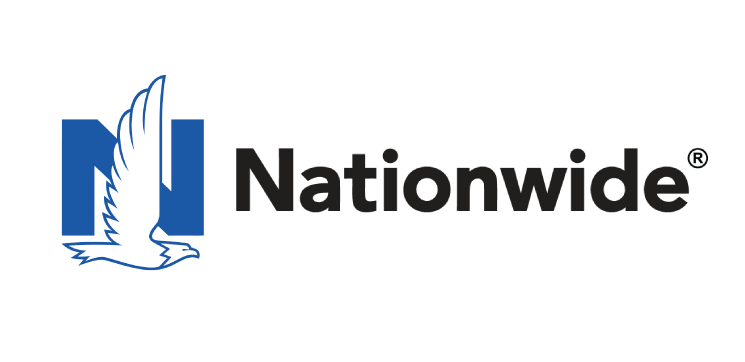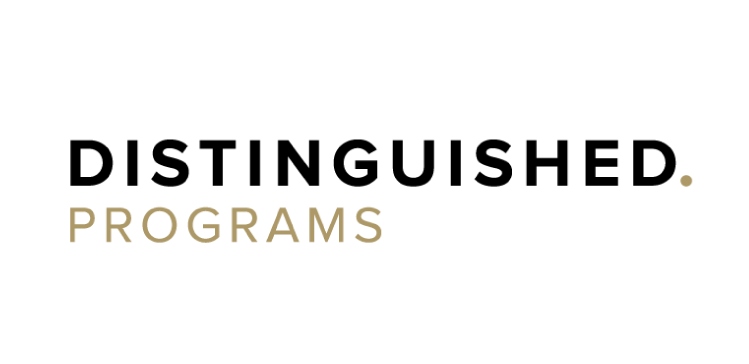 Vacant Building Insurance
Unoccupied residential and commercial properties pose large amounts of risks to insurance companies; for this reason, vacant property insurance can be confusing, expensive, and restrictive.
At FarmerBrown.com, we understand the concerns and questions you may have when it comes to insuring your vacant buildings.
While many insurance companies will not insure, or make it difficult to insure, unoccupied buildings or homes because of the increased risk associated with vacancy, we do our best to prioritize the safety and stability of our clients' properties.
What Makes Building Vacant?
This is not as straightforward as it sounds. The dictionary definition and the classification by an insurance company as to what a vacant structure can vary greatly. There are some very important gray areas that the experts at VacantBuildingInsurance.com can explain to you.

Commercial and Rental Properties


Property Undergoing Renovation
Commercial and rental properties that are less than 35% occupied generally are not covered by a standard policy.
Seasonal use dwellings such as vacation homes and winter residences are usually treated as vacant properties by insurers.
Property undergoing renovation are classified as vacant, you might want to ask about obtaining a builder's risk policy to cover you during renovations.
Vacant Home Insurance
Vacant home insurance is recommended if a residential unit will remain 100% unoccupied for more than 60 days. After 60 days of vacancy, most standard homeowner's insurance policies do not provide coverage for claims.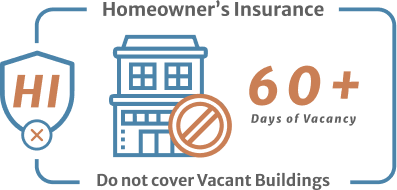 Vacant home insurance is essential for homeowners that must relocate for any reason, such as renovations or extended vacations.
Similar to vacant commercial property insurance, vacant home insurance quotes can be in the form of endorsements or separate insurance policies. Learn More
Vacant Property Risks
Vacant properties, either commercial or residential, pose a substantially higher risk than occupied buildings, generally due to lack of security and supervision.


Without occupancy, buildings remain unsupervised for extended periods and therefore increasing the opportunities for theft and vandalism. Additionally, should the infrastructure of the building fail (bursting pipes, gas leaks, etc), the malfunction will not be noticed for a significantly longer period and the impacts will be much more catastrophic. Building infrastructure could be affected by break-ins, drastic weather, or overall negligence.
Vacant Commercial Property Insurance
Vacant commercial property insurance is offered to property owners whose buildings are more than 30% unoccupied, typically for more than 30-60 days depending on your standard commercial property insurance. Standard commercial property insurance will not provide coverage to buildings with a vacancy status for longer than this time period due to the increased likelihood of damage.

Vacant home insurance is essential for homeowners that must relocate for any reason, such as renovations or extended vacations.
Similar to vacant commercial property insurance, vacant home insurance quotes can be in the form of endorsements or separate insurance policies. Learn More.
Therefore, vacant commercial property insurance is recommended either in the form of an endorsement or as a separate insurance policy.
If your home or property becomes vacant for a long period of time, standard building insurance policies will not cover the property. Specialized vacant building insurance or vacant house insurance can cover your property during these periods of vacancy from:
Vandalism
Damage.
Loss.
And much more…
Don't hesitate to seek out the right information and gather all the facts before making your vacant building insurance decisions. Vacant home insurance, vacant building insurance, or any vacant property insurance is our expertise.
It is important to ask many questions and get answers directly from our experts that specialize in vacant building insurance on a daily basis it's all we do!
Vacant Building Insurance Coverage
Many standard commercial and residential insurance policies do not include extensive coverage for vacant buildings; coverage must be purchased as an additional policy or as an endorsement to your current insurance policy.
Depending on the conditions of your building's vacancy, eligibility, coverage limits, and premiums can vary greatly in terms of restrictions and costs.
Common factors affecting coverage limits and policy costs include: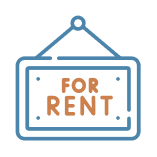 Through years of experience, the agents at Farmer Brown can guide you through the obstacles in obtaining the proper coverage for your vacant property and assure that you are properly covered at a reasonable price.

Info
We offer various financing options as well as multiple policy periods to account for short term and long term vacancy (ranging from 3 months to 24 months).
Standard building insurance policies do not cover changes in vacancy status. The unexpected transition from occupied to vacant, or short term vacancy to long term, can be costly.
Obtaining a specialized vacant commercial or home insurance policy for unoccupied buildings is essential to ensure coverage for your property from:
Vandalism.
Damage to infrastructure.
Flooding.
Break-ins.
Vacant property insurance policies offer extremely different coverage levels; do not hesitate to seek out the right information and gather all the facts before making your vacant building insurance decisions.
Frequently Ask Questions
Why is vacant building insurance so expensive?
The reason vacant building insurance is so pricey is that the insurance company is taking a significant amount of risk versus an occupied dwelling. If there is a loss, the additional time it takes to find the loss can cost the insurance company thousands of dollars; hence, the severity of claims is magnified. There are also the additional perils that an insurance company takes on for liability.
Can I finance the premium?
Unfortunately, you can only finance the premium for a vacant building if the policy is for at least 1 year.
Does vacant building Insurance operate in the state my building is in?
Yes. the vacant building insurance operates in all 50 states and can usually find a policy to fit your needs.
What if there are contractors in the building?
This can be a complex question. There is a difference between a builders risk insurance policy and a vacant building policy. We will analyze your situation and let you know the best route for you-whether it is a builders risk policy or vacant building policy-and help you make the right choice.
What if I am in a high wind area?
In most states, we can find wind coverage; however, this can significantly increase the premium of the policy.
Can I cancel once I sell the building?
No. Vacant building policies are fully earned for the time period. Once you purchase the policy, there are not returned premiums.
How can I pay for the policy?
FarmerBrown can take credit cards or checks over the phone. We can usually get you a policy within a day in you can scan/fax back the simple application we send you as soon as possible.
Do I have my choice of how much liability coverage I need?
Generally yes, depending on the company. We can usually write a policy that has $300,000, $500,000 or $1,000,000 in general liability coverage.
Once the building is occupied can I change the insurance over to a "preferred" market policy?
Yes. As soon as the building becomes occupied, you will want to change it to a standard policy for you will probably need some additional coverage such as "Business Income" coverage.
Can I name an additional insured on the policy?
Yes. We can add on a mortgagee, contractor, or another person onto your policy. We can do this for general liability as well as property coverage.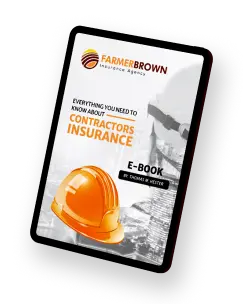 Everything you need to know about Contractors Insurance is here.
What are the main advantages of choosing FarmerBrown.com for insurance quotes?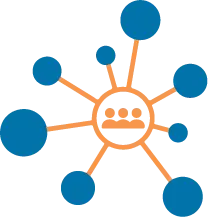 A Broader Choice
We work with more than 30 A-rated insurance companies, many of which your local brokers may not have access to.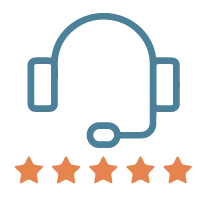 5-Star Customer Service
We pride ourselves on our knowledgeable and professional sales team, who prioritize attention to detail and are prepared to handle complaints 24 hours a day.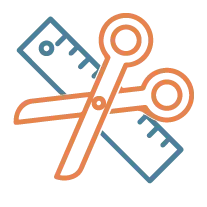 Tailor-made service
We negotiate with the best insurers to achieve effective insurance solutions for you.