Business Insurance for Contractors
At Farmer Brown, we care about your business! We have special policies for many contractors, and we can modify them to cover your specific needs.
The most important policies for any business are Workers' Compensation and General Liability. Nevertheless, for construction contractors, it is also essential to carry Builder's Risk.
Below there is a list of the most common businesses and their policies. However, if your business is not listed, just give us a call at (888) 973-0016 We are here for you 24/7!
To get a free quote you just need to select your business, fill out some information about it, and in a matter of minutes, voila! We will contact you.
It is important to remember that the prices vary depending on the type of business, its size, claim history, location, and annual revenue.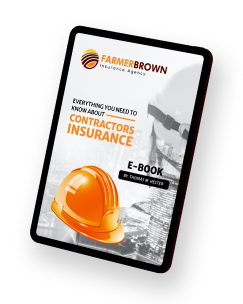 Everything you need to know about Contractors Insurance is here, in one place. Get the Ebook Now.