Coverages
At Farmer Brown, we tailor the coverage for your specific business! We focus on Commercial insurance, which covers the risks and losses for companies or organizations. This type of insurance can be used to protect the company's physical assets, its employees, and its income-producing capacity.
As there are many different businesses, there is also a great variety of policies, and the most common ones are listed below. However, we have even more policies available so get a free quote today.
If you couldn't find the policy you were looking for or have any questions regarding the coverage you need, call us immediately at (888) 973-0016 We are here for you 24/7 because we pride ourselves in our outstanding customer service and in always answering the phone.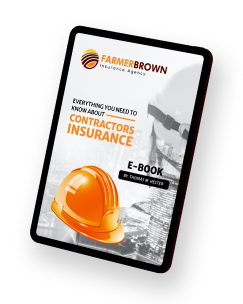 Everything you need to know about contractors insurance is here.