All You Need To Know About Restaurant Insurance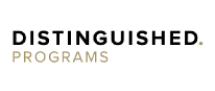 Restaurant Insurance Ebook (PDF)
All You Need To Know About Restaurant Insurance
Hello! Thank you for taking the time to learn more about Restaurant Insurance. My name is John M. Brown, and I am the owner of FarmerBrown.Com We are one of the largest and oldest independent insurance brokers online, specializing in helping restaurateurs with all their insurance needs.
Along with the author of this eBook, Thomas M. Hester, we have over 50 years of combined experience in helping restaurants succeed and grow their businesses. If you read the following material, you will find many keys to success that successful restaurateurs follow. The material is easy to read and contains real-world, useful advice from industry experts with years of experience. It will give you the knowledge to avoid pitfalls that many restaurateurs make.
Restaurant insurance is a complex topic, but we will try to break it down into easily digestible points that you can understand. With an understanding of this complex subject, you will be able to make informed decisions that will allow your business to flourish.
After reading this eBook, you will have the proper tools to ensure that you are making the right decisions concerning your insurance needs. As a general rule, insurance is the largest insurance expenditure that a restaurant will have. Therefore, it is in your best interest to educate yourself on the subject. The information contained in the following pages may save your business thousands of dollars. Even the best insurance agent will not know your business as well as you do. That is why educated input, provided to a knowledgeable agent, will get you the best insurance solutions.
Thank you for your time and consideration. I guarantee that you will find this information useful. I look forward to assisting you with any restaurant insurance needs you may have.

Owner, FarmerBrown.com
Introduction
Restaurant Insurance Made Easy
Affordable Restaurant General Liability Insurance
What coverage can general liability provide for food and beverage businesses?

Customer property damage

Host liquor liability

Advertising injuries

Cost of Restaurant General Liability Insurance
Workers Compensation
What Does Workers' Compensation Insurance Cover?

What Injuries Are and Are Not Covered by Workers' Compensation Insurance?

How Workers' Compensation Insurance Claims Work

Healthcare Professional Visit

Start The Claim Process

File The Claim

Getting Benefits

Getting Back To Work

Safety Training

Workers' Compensation Class Codes (NCCI Codes)

What Are Workers' Compensation Class Codes?

What Is the National Council on Compensation Insurance?

What Are NCCI Class Codes Used For?

What Are the Benefits of Accurate NCCI Codes?

Experience Modification

Example of how EM affects the Policy price

How Much Does Workers' Compensation Insurance Cost?

Cost of Restaurant Workers' Compensation Insurance

Workers' Compensation Audits
Restaurant Insurance to Protect Your Property and Assets
Restaurant Commercial Auto Insurance
Do You Need Commercial Auto Insurance?

What Vehicles Are Covered By Restaurant Commercial Auto Insurance?

What Does Commercial Auto Insurance Cover?

How Much Does Commercial Auto Insurance Cost?

How Do Commercial Car Insurance Deductibles Work?

What is Hired and Non-Owned Auto Coverage?

Is Commercial Auto Insurance Expensive?

How Much Liability Coverage Do You Need?

Who Needs Commercial Auto Insurance?

Affordable Commercial Auto Insurance For Business

Things to Know Before Purchasing Your Commercial Auto Insurance.

What to Ask Your Insurer Before Getting Your Commercial Auto Insurance

How Can I Lower My Commercial Auto Premium?

Restaurant Valet Insurance

You outsource the valet parking to a valet company

How does valet insurance cover common risks
Restaurant Liquor Liability Insurance
What Is Restaurant Liquor Liability Coverage?

Liquor liability insurance can help cover claims of

How Much Does Liquor Liability Insurance Cost?

Ways To Save Money on Liquor Liability Insurance

Do I Need Liquor Liability Insurance?

What Is the Difference Between Host Liquor Liability Coverage and Liquor Liability Coverage?

Does My General Liability Insurance Cover Liquor Liability?

What Is Liquor Liability Insurance Called?
Business Owners Policy (BOP

)
Restaurant Commercial Umbrella Insurance
Commercial umbrella insurance cost

What does commercial umbrella insurance cover?
Final Thoughts on Restaurant Insurance
Introduction:
If you own a restaurant, bar, tavern, or food truck, you are well aware of the extremely challenging circumstances you face. The post-COVID hospitality industry looks nothing like it did in 2019. From out-of-control inflation affecting food prices to the almost impossible task of hiring workers, the dilemmas of restaurateurs are unprecedented. Currently, most restaurants are barely hanging on, and many owners are closing up as the stress and complications have taken the enjoyment out of the work they were once so passionate about. Cutting costs is imperative in your restaurant just to keep the doors open. One way to cut costs is by making informed decisions about affordable restaurant insurance. If you spend a few minutes reading the following information, there is a good chance you will be able to save a few thousand dollars. In any case, you will at least gain the knowledge that your restaurant has the proper insurance it needs. So let us sit down and dig into the information that follows.
Restaurant Insurance Made Easy:
Insurance is a field rife with specific language and sometimes complicated structures. Just like preparing a recipe for the first time, it can be a nerve-racking experience. However, it is a necessity that many restaurant owners may have a hard time fully understanding without more in-depth knowledge of the field. As a result, these restaurant owners tend to go in blind and simply search for the lowest price. There are times when this may make sense. However, if you do not know what is not covered in the event of a claim, it can become a much more disastrous situation than necessary. This is true for all lines of insurance, with General Liability insurance being both the area of insurance most necessary and with the most gaps in coverage. This eBook is meant to introduce the basics of how Restaurant Insurance works, how to find the most complete policy for your needs, and how to make sure you're spending the right amount of money in the right areas to receive the best deal.
I hope you find the following information rewarding and helpful in finding value in your insurance by making you a more sophisticated buyer. I believe that by putting some focus every few years into purchasing insurance, you will save money and many headaches. As a Restaurant operator, you must have insurance to protect your business property, take care of the people that help you run the business, and also provide coverage for your daily operations.
The topics covered in this book are:
General Liability Insurance

Workers Compensation

Property Coverage

Commercial Auto

Liquor Liability

Business Owner's Policy for Restaurants

Commercial Umbrella
Affordable Restaurant General Liability Ins.
A low-cost Restaurant General Liability insurance is the most basic type of insurance that every restaurant needs. It protects you and your business against lawsuits, accidents, and mistakes. Without coverage, you would have to pay these amounts from your own pocket. It is important to remember that if there is a covered claim, the insurance company will also pay the legal fees and expenses for a covered claim, along with any judgment or settlement amount. If you do not have insurance, it would financially devastate your business. Furthermore, your restaurant commercial leases will also require you to have general liability coverage at a minimum. A policy provides liability coverage related to:
Customer personal injuries, such as slip and falls

Customer property damage, like a bowl of soup on a fur coat

Host liquor liability

Advertising injuries, for claims like slander, libel, and copyright infringement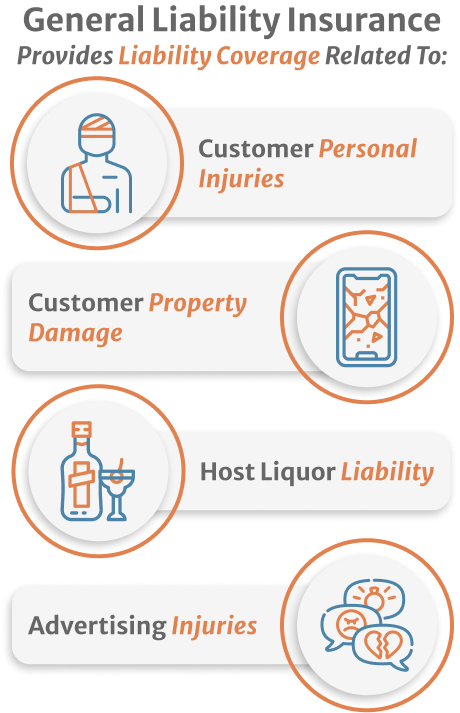 What coverage can general liability provide for food and beverage businesses?
Customer injuries: No matter how careful you are, accidents will happen at any restaurant. When a customer gets hurt on your property, general liability insurance will pay for everything from an ambulance ride to the cost of a lawsuit if your business is sued, and it is a covered claim. General liability insurance covers:
Legal defense costs, including attorney fees

Medical expenses incurred by the injured party

Court judgments or settlements

Funeral costs in fatal incidents
On a side note, it is important to remember that a restaurant general liability insurance policy does not cover your employees. For that, you will need workers' compensation insurance. Keep reading to find out more about workers' compensation.
Customer property damage:
General liability insurance also protects you when customer property is damaged. If a server spills a drink on a customer's fur coat, your general liability policy could help pay for: