Employee safety is essential to every type of business, and it's a priority in the labor laws, even more so in high-risk industries like construction, which is among the most dangerous industries in the country. Powerful equipment, unfinished structures, and other hazards can cause injury and death. Hence, Workers' Compensation insurance is vital to cover these risks.

Few employers need good insurance as much as contractors. According to the Bureau of Labor Statistics, in 2020 alone, 1.008 construction laborers died of occupational injuries, and around 174.100 suffered nonfatal work injuries and illnesses.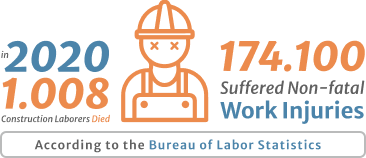 Your business is safer if you know how it works. Let's examine some of the frequently asked questions about this policy.
Don't take that risk with your employees!
Talk to an expert or get a free fast quote for your Workers' Compensation!
What exactly is Workers' compensation?
Workers' compensation is a type of insurance that gives medical and disability benefits to employees or workers that got injuries or diseases at work. This policy is part of a social insurance system that falls under state regulations; it offers partial wage replacement for permanent or temporary loss of earnings.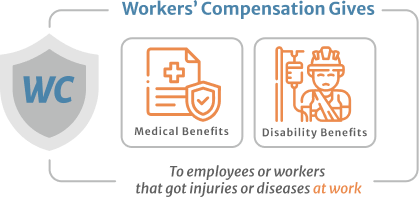 The idea of compensating injured workers started in Germany in the 1800s. It became common throughout the United States between the 1930s and 1940s. Before being implemented, the only way injured workers could solve their problems was to sue their employers. Currently, workers know the employer's insurance will take care of injuries or diseases resulting from their jobs. Thanks to the development of workers' compensation, in most cases, laborers no longer have to worry about suing their employers.
Workers' compensation's function is to cover medical expenses caused by injuries and give workers financial support during their recovery. Therefore, it motivates businesses to accept the responsibility for the policy's premium costs to avoid the workers suing them for their injuries.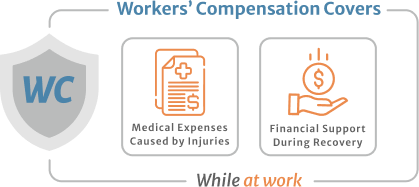 Where's Workers Compensation is Required?
The law requires workers' compensation insurance in almost all states in the US, including New York, Missouri, Illinois, Florida, Georgia, California, and many more. Some states even have significant penalties for not carrying it.
The exception is Texas, where the coverage is optional for most businesses, except construction companies and governmental entities.
Usually, businesses can obtain workers' compensation insurance through independent insurance companies like ours. However, there are two monopolistic states (Montana and Wyoming) where you can get your workers' compensation through the state-run system.

Many states follow the rules set by the National Council on Compensation Insurance (NCCI), the non-profit organization designated to standardize insurance practices. But even within NCCI, there are variations. For instance, Missouri requires Workers Comp for most businesses with five or more workers, but all construction companies must carry it. Connecticut is an NCCI state, but cross the border into Massachusetts, and your coverage has to match their independent rating regulations.
That makes requirements tricky, but you can get reassurance and advice from professionals like ours at Farmer Brown. Moreover, we're licensed in all 50 states and know precisely what's needed and where.
What Are The Benefits of Workers' Compensation?

For Workers
Every contractor's job is risky, and getting workers' compensation from your employer can help you in case of an accident. Suppose you get injured or get into an accident on the job. In that case, workers' compensation can take care of medical treatments, payments for the time off while you recover, compensation for any disability caused by the injury, and job retraining if you cannot return to your old job.

For Employers
Seeing is believing. Once you have permission to take photos of your amazing work, upload it to your newly designed website. Don't forget to ask them for written testimonials too! Have you worked with reputable or important companies? If you have permission from your client, promote this on their website and promotional items: "I've worked for major companies like FarmerBrown.com and Mc. Ronald's!
How much does a Workers' Compensation Insurance Cost?
The cost of workers' compensation it's highly variable. It is usually based on rates per $100 of payroll and depends on what type of job a worker falls under; for example, a roofer has a higher risk of injury and, therefore, higher premiums.

Price adjustment factors help employers with their particular costs, so the cost also depends on your company's location (state), age, and safety track record.

Is Workers Compensation Taxable?
State laws exempt benefits from a workers' compensation policy from income taxes, provided the laid down regulations are abided by. Your indemnity benefits need not exceed a certain level to be exempt from tax payments. For example, the law may stipulate that these benefits must not surpass two-thirds of your wages before you were incapacitated to avoid being taxable. However, if your employer decides to pay you extra, pushing your benefits beyond the stipulated threshold, the excess would be subject to income tax.

What are the Taxable Conditions?
Social Security benefits: In a situation where you receive Social Security benefits along with your workers' compensation benefits, the total benefits received cannot exceed a given threshold. Once that limit gets surpassed, the excess is subject to tax.
Payments for Light Duty: It is also possible that an employee may return to work after an injury to carry out light duties while still receiving workers' compensation benefits. Any income earned doing this will be subject to income tax.
Interest payments: There are situations when insurance companies may pay workers' compensation benefits with interests, especially when they are guilty of delayed payment. In this instance, the interest received is considered a taxable income.
Retirement benefits: It is also relevant to note that any retirement benefits you receive in addition to your worker's compensation benefits will be subject to tax. It does not matter whether the retirement resulted from your injury or disability or from good work done in the services of an employer.
Ordinarily, workers' compensation benefits are not taxable. But you will have to pay taxes if it exceeds an established threshold. Due to that limit, your Social Security benefits will be reduced by your policy benefits. Still, there are ways by which you can decrease that reduction.
What are the Most Common Worker's Compensation Payroll Mistakes?
There are two, but both affect the workers in many ways.
Undervalue the projected annual payrolls: An employer's workers' compensation premium is always directly linked to the estimated payroll. If you fail to specify the correct payroll at the beginning of the coverage, an additional premium will be due at the time of the audit. That will expose your business to a more significant additional payment owed after the audit. Therefore, instead of being able to pay your premium in installments, you will have to pay in full.
Overvaluing the payroll: When this happens, employers pay more worker's compensation insurance than they should. Though the employer can still get the excess money back after the audit, they are giving the insurance company time to hold the overpaid premium funds with no benefit or return on investment.

Before doing the payroll for workers' compensation insurance, you must have an accurate payroll projection, even if it seems difficult to do because of the complicated process. You need to thoroughly monitor the payroll during the policy period to keep your projected payroll updated.
What Isn't Covered?
Some injuries aren't within the scope of Workers' Comp. The employee will not be able to claim if they:
Violate company policy.
Aren't working when the event happens.
Inflict the injury on themselves.
Get injured while committing a crime
Explicit knowledge of exclusions helps you deal with each situation effectively without confusion. Therefore, make sure to double-check your policy and state's regulations. The fact remains: risk is high in contracting. Workers Comp isn't all you'll need.
Other Commercial Policies you need To Protect your business.
At Farmer Brown.com we also offer other commercial policies that you can get along with your workers' compensation, those are:

It covers the value of the building and property against non-liable damages like wind, fire, and theft.

Protects you from third-party bodily injury and losses, including medical and legal fees, when your company is responsible.
Farmer Brown provides the best Workers' Compensation insurance advice. We can assist you in setting up every type of policy your business needs. We focus exclusively on Contractors Insurance and have the knowledge and market access a local company can't offer.
We'd like to help your company get the security it needs
quickly and at the lowest cost.