Congratulations! You've gotten to the stage of your business where it's time to get your own excavator rather than using a rental or whole rental fleet every time. However, when you started looking at the options and features from compact excavators to hydraulic excavators and even larger excavators, you realized that you didn't quite know where to start.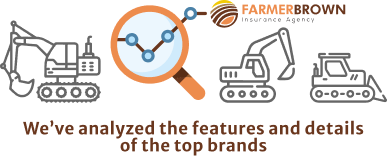 Getting your first large piece of construction equipment can be complicated but lucky for you, we have gone through all the brands, features and details to find the best options for your job site and business.
If you are looking to buy one of those you must want to Insure it,
Get a free quote for your Excavator Insurance Now!
Determining What Features You Will Need
When you buy a new piece of equipment in your both personal and business life, you need to make sure it has all the features you will need on average. When getting an excavator, this is no different.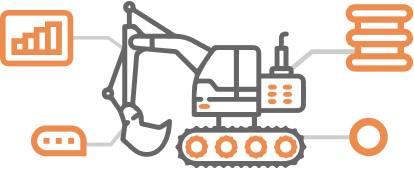 Before even looking at the top mini excavators, you first need to determine what features are most important. If the number one excavator doesn't have the option for an enclosed cab but you need one, it will be time wasted.
To determine this, look at what you do in construction and where you do it. Thinking back to what your sites look like, will you have tight spaces, cold weather, close by utility work or region-specific laws to follow?

If you can answer these questions, you are much closer to determining what is not just the best overall excavator, but what is best for you. If you have tight spaces on most of your sites, a compact excavator with a zero tail swing or even a skid steer will be better than a regular excavator. If you have extremely hot or cold weather much of the year, an enclosed cab might be vital for your operator to be happy working.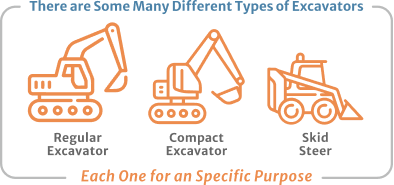 On the other hand, if you have utility work and shallow holes to do on a regular basis, a ditch witch attachment for a skid steer might be better than getting an excavator at all. Lastly, regional laws, like those in California or Illinois, could inhibit you from getting certain models should they not pass emissions or another law. Once you know what you need, what about what you want?
Determining What You Want
It's not just your needs you should think about when looking into buying a new piece of construction equipment. You should also think about the things that you want or prefer. Thinking about your needs, you might start with whether you want a diesel engine over natural gas or even newer electric models. Sometimes, you have a brand preference for construction brands such as Kubota, Bobcat, or Caterpillar or a preference for less construction exclusive brands like Volvo or Hyundai. This is something that should be thought about before going shopping.

Other things to look at are dig depth, dump height, travel speed, and operating weight. These can be especially important as they might split needs versus your wants depending on your average job. For example, if you don't often dump piles of dirt very high dump height might not be vital but it could be something you want for future job sites. On the other hand, you might need the operating weight to be under 10 tons but want it to be under 5 tons. With your needs and wants in the clear, it's officially time to look at which mini excavator will be best for you.

Best Excavators for Small Businesses
Now it's time to go shopping for your first or next excavator. Following we have a starting list of the top mini excavators with features and specs so that you can spend more time working and less time researching.

Final Thoughts
When you are looking for an excavator, take time to check around at multiple places just the same as you would a fridge for your home or a car for yourself. In much the same way as a car, test run the excavator you are thinking about buying and make sure to look into warranties and which dealership or shop will give you the best offer.
If you wish to go with a used model as your first purchase, make sure you can get the history and as much information on the piece as you can. In the same was you want the history of the used car you buy, you want to know what the excavator has been though to ensure that you don't get a lemon or a bad deal.

If you have already decided to buy an excavator,
make sure you protect it with an Excavator Insurance.