Florida Restaurant Insurance
Call (888) 973-0016 and Get Insured Today!
Serving Protection as Delicious as Your Cuisine: Florida Restaurant Insurance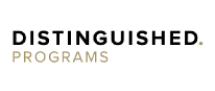 Get an Instant Restaurant Insurance Quote is as easy as:
Fill in 30 Seconds form
Restaurant Insurance Quote Form
Restaurant Insurance for Owners in Florida
Owning a restaurant in Florida's diverse gastronomic landscape is an exciting venture. From seafood diners in Miami, and Latin-infused spots in Orlando, to elegant eateries in Tampa, Florida serves a platter of tastes and culinary traditions. However, the excitement of the hospitality industry in Florida is paired with its share of challenges. And, as a restaurant entrepreneur, it's essential to shield your hard-earned investment from unforeseen risks. This is where the role of comprehensive restaurant insurance becomes paramount.
Ensuring you have an affordable and effective restaurant insurance policy in Florida allows you to operate confidently. It means being assured that your venture and future finances are secured, letting you emphasize creating memorable dining experiences for your patrons.
Key Coverage Options for Restaurant Owners in Florida:
Regardless of size, every dining venue in Florida should prioritize obtaining a General Liability Insurance policy. This is your first defense against unexpected lawsuits, accidents, or oversights. In the event of a validated claim, the insurer undertakes legal costs and any settlement or judgment fees. With this shield, your restaurant could avoid severe financial consequences.
Florida, synonymous with beautiful beaches and a buzzing dining scene, witnesses millions of diners annually. This traffic amplifies potential risks:
Accidents and Injuries: An overlooked wet floor or malfunctioning equipment can lead to injuries and subsequent liability claims.
Property Damages: Incidents like accidental damage to a customer's belongings can result in compensation claims.
Marketing Discrepancies: In today's age of online promotions, unintended copyright breaches or misrepresentation can instigate costly legal actions.
On average, a general liability insurance policy for restaurants in Florida could range from $800 to $2,800 annually.
Workers' Compensation Insurance for Restaurants in Florida
Restaurants in Florida don't just need to focus on delivering exquisite meals but also on ensuring a secure environment for their team. Workers' compensation insurance is a non-negotiable aspect of safeguarding your staff against job-related injuries or ailments. From potential kitchen mishaps, such as burns or knife cuts, to waitstaff injuries from slips, these unforeseen situations can result in hefty medical expenses and wage losses.
Factors determining Workers' Comp rates in Florida include:
Payroll: Premiums often correlate with the restaurant's payroll.
Role-based Risk: Different job roles carry varied risk profiles.
Safety Records: A history of numerous claims can raise premium costs.
Location: Depending on local risk factors and historical claim data, rates might differ across Florida.
Type of Establishment: A café may have different risk parameters than a luxury dining venue.
Considering the broader Florida business scene, Workers' Comp insurance can span from $0.90 to $2.75 per $100 of payroll. Given the inherent risks in the restaurant sector, premiums often lean toward the higher end.
Property insurance for Florida restaurants is indispensable. It covers tangible assets, including equipment, furniture, and the building itself, against risks like theft, fire, or hurricanes, which are particularly relevant given Florida's susceptibility to tropical storms.
Features of property coverage include:
Building Protection: Essential if the property is owned by the restaurateur, covering damages from insured events like fires or hurricanes.
Contents Protection: This covers the cost of replacing items like kitchen appliances, furniture, or artwork.
Equipment Malfunction: In scenarios where essential appliances fail due to electrical issues.
Spoilage Cover: Compensates for inventory loss caused by events like prolonged power outages.
Business Interruption: Provides financial relief if operations are halted due to insured events, ensuring bills and salaries are covered.
Costs for property insurance in Florida can vary, with annual premiums ranging from $1,700 to $11,000, contingent on factors like location, size, and specific coverage limits.
With a growing trend in food delivery and food trucks, commercial auto insurance has become crucial for many restaurants in Florida. This coverage protects vehicles that are either owned or used by the business.
Coverage includes:
Liability Protection: Covers damages caused to others in an accident.
Physical Damage: Encompasses collision and non-collision-related damages.
Medical Payments: Addresses medical expenses for the vehicle's occupants post an accident.
Uninsured Motorists: Useful when an at-fault driver lacks adequate insurance.
In Florida, the state mandates minimum liability insurance for commercial vehicles. However, considering the potential risks, many restaurants opt for more extensive coverage. Premiums can range from $1,300 to $2,700 annually per vehicle.
For those serving or selling alcoholic beverages, Florida mandates Liquor Liability Insurance. This coverage safeguards against legal and medical claims arising from alcohol-induced incidents.
Key coverage aspects include:
Defense against lawsuits, irrespective of fault determination.
The potential inclusion of assault and battery claims, sometimes at an added cost.
Coverage for incidents caused by employees who might overindulge.
Premiums for Liquor Liability Insurance can vary significantly, ranging from $500 to $3,500 annually, depending on factors like sales volume and establishment type.
A Business Owner's Policy offers a combined package, typically encompassing General Liability and Property Insurance. It's designed for small to mid-sized restaurants, providing a cost-effective solution with broader coverage.
Key benefits of BOP for Florida restaurants include:
Comprehensive Protection: A bundled policy can cover various risks, offering a holistic safety net.
Customizable Options: Choose added endorsements based on specific needs, from food spoilage coverage to utility interruption.
Cost-Efficiency: Bundling often leads to cost savings compared to purchasing individual policies.
A BOP annual premium in Florida can range from $1,200 to $4,500, influenced by the restaurant's size, location, and specific risks.
Commercial Umbrella Insurance for Restaurants in Florida
Commercial Umbrella Insurance is a safeguard against large, potentially devastating claims. The umbrella coverage kicks in if a claim exceeds your other policy limits.
Features include:
Additional Coverage Limits: Over and above your existing policies like general liability or auto liability.
Coverage Versatility: Acts as a safety net for multiple policies, consolidating extended protection.
Legal Fee Coverage: Often, umbrella policies cover associated legal fees.
For Florida restaurants, an annual premium for Commercial Umbrella Insurance might range from $400 to $1,500, depending on the underlying policies and the coverage limit chosen.
Why Florida Restaurant Insurance with Us?
At Florida Restaurant Insurance, we've established an enduring legacy of trust with restaurant owners nationwide. We acknowledge the challenges, anticipate your needs, and devise policies prioritizing your peace of mind. Our network of seasoned insurance specialists understands the unique dynamics of Florida's restaurant industry, and we're primed to serve.
We believe in forging partnerships for success. When you trust us with your insurance needs, you're assured of the following:
A commitment to transparency.
Comprehensive coverage tailored for the Florida restaurant landscape.
Affordable rates with zero compromise on policy quality.
Prompt and dedicated customer service that goes beyond policy jargon.
Call us now at (888) 973-0016, and let's ensure your Florida restaurant thrives with the best protection!
Frequently Asked Questions
What types of insurance are essential for a restaurant in Florida?
The essential types of insurance for a restaurant in Florida include general liability insurance, workers' compensation insurance, property insurance, commercial auto insurance (if you have a delivery service), liquor liability insurance (if you serve alcohol), and business interruption insurance. Additional coverages such as food contamination insurance and power outage coverage may also be necessary based on your specific business operations.
Is liquor liability insurance required for all restaurants or just those serving alcohol?
Liquor liability insurance is typically required for restaurants that serve alcohol. It's designed to protect your restaurant from claims resulting from the actions or behavior of intoxicated individuals on your premises. If your restaurant doesn't serve alcohol, you likely won't need this type of insurance.
How is the cost of workers' compensation insurance calculated?
The cost of workers' compensation insurance is typically based on several factors, including the number of employees you have, the type of work they do, and your restaurant's previous claim history. High-risk industries, like restaurants, may pay more for workers' compensation insurance due to the increased likelihood of work-related injuries.
What does business interruption insurance cover, and is it necessary for my restaurant?
Business interruption insurance is critical for restaurants. It covers the loss of income your business suffers after a disaster (like a fire or natural disaster) that temporarily forces you to close your doors. This coverage includes the physical damage to your business and compensates for the profits you would have earned during the closure. It's considered necessary for restaurants because it can help you maintain your financial stability and meet obligations (like payroll and rent) even when your business isn't operating.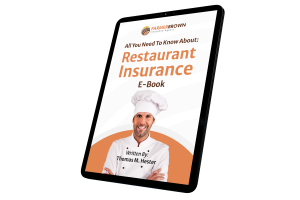 Online Restaurant Insurance E-book
Everything you need to know about Restaurant Insurance is here.