Life, to some people, is a risk. If this is true, it should not be that surprising to learn that different occupations and professions, including electrical contractors, are filled with dangers. Failure to effectively guard against these hazards could lead to your business's demise.

Being exposed to electrical faults can start a fire or explosions. Those who work with electricity, especially electricians, should be very cautious and mindful of the risks of that kind of job. You need to know how to manage potential electrical hazards. That even includes the electrical equipment used around the house. If you do not already know them, here is a list of the 5 most common risks that an electrician may face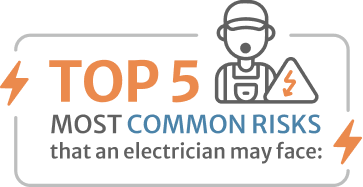 Five Risks That Electrical Contractors Can Face
1. Injury
This is one of the most common electrical hazards contractors can face while carrying out their work. Bodily injuries can occur in different ways and under various circumstances. The most common risk is being electrocuted, which can result in severe burns and even death. It can give electricians permanent burns to internal tissues and skin. It can even affect the heart and brain depending on how long an electrician was electrocuted.
Faulty electrical equipment can also cause injuries, such as electrical shock, which can make an electrician fall off a ladder. Others can get sick, muscle spasms, nausea, vomiting, and palpitations. Also, a third party could sustain injuries on your property or where you are executing a project.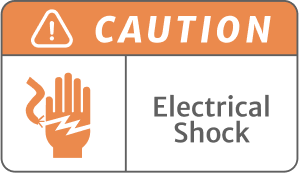 For example, a homeowner might plug in a piece of equipment such as a blow dryer in a faulty socket and get electrocuted, acquiring severe injuries and causing damage to the house. Another common risk is a property fire putting homeowners' lives at risk. As an electrical contractor, you will likely be held responsible in these cases. Medical costs and legal expenses could prove too much for your business without proper coverage.
2. Property Damage
An electrical contractor could also cause damage to a client's property while working. For example, a falling ladder could cause damage to items inside or around a property. You may be forced to spend a lot of money trying to put things back in order. Even when you have managed to complete a project without doing any damage to a client's property, any faulty wiring could still cause fire damage. This is not even considering the damage that could be done to your own property by weather conditions or other factors. You sure do not hope for such a possibility, but it could happen. That's why general liability insurance can save your business.

3. Equipment Breakdown and Theft
Another risk electrical contractors could encounter is related to their tools and equipment. These could break down unexpectedly, causing work delays. In addition, some tools and equipment could get stolen by thieves from where they are kept, especially when left on the work site.

4. Auto Accidents
If you have vehicles you use for your business, this is another possible risk to deal with. These vehicles could be involved in auto crashes when you least expect them. Such accidents could lead to injuries and possibly deaths, with profound financial implications on your business. The vehicles involved could also be rendered useless by accidents.

5. Business Income Loss
You may not be able to work if your property is damaged or your tools are damaged, stolen, or lost. Expectedly, you will be at risk of business income loss during such a period of work stoppage. These risks explain the reason you should always carry electrical contractor insurance. Electric shock, explosion, fire, and even toxic gasses and contaminants are just some of the risks an electrician can get from electrical installations and work.
How do you Prevent and Manage Electrical risks?
The US Fire Administration already gave information on what electricians and others can use to be safe from electrical fire and electrocution.

These are just simple steps in managing or preventing these risks in a home or wherever an electrician is working:
Know and identify what's wrong- Inspect and observe, in other words, hazard identification.
Know the level of the risk given to homeowners and even to yourself as an electrician- conduct a risk assessment.
Know what needs to be done to resolve the problem- Also called risk control.
Review the solutions or plan them out before implementing them (to know if they will work or not).

As an electrician or a homeowner, you need to ensure the following to manage or prevent the risks:
Protect all power circuits with proper fuses or circuit breakers.
Arrange all electrical leads, so they do not get damaged immediately and run across the floor or doorways.
If you have electrical leads in your house's wet areas, ensure these are waterproof or designed for wet conditions.
Unplug or disconnect any unsafe equipment, even broken or damaged ones, and only use it once a professional electrician has repaired it.
Always use personal protective equipment to avoid bodily injury.
Conduct an inspection regularly and ask help from an electrician to test out your equipment to see if anything is damaged and get it fixed immediately to avoid risks.
Cover the sockets when not in use, unplug wires, and ensure kids never play with them.
Another best thing to do is to be protected by electrician liability insurance to avoid getting financial loss and even the headache of knowing who is responsible for the damages.

Conclusion
Every business comes with risks; some can be avoided with proper planning and work ethics, but not all of them. That's why business insurance coverage is essential, especially for an electrical contractor business. Before handling an electrical project, get yourself covered.

Avoid those risks by getting yourself covered with us,
we have the best rates for electrician contractors just one click away.