Like any other type of business, contractors need to carry the proper insurance to protect their contracting business. If you are a building contractor, there are a number of specialized types of insurance you may need to adequately manage your business. In the next few paragraphs you will be able to access our 25+ years of experience. This will give you the opportunity to purchase a low cost insurance coverage and also allow your business to save money in the long term, while providing you with a comprehensive insurance plan that will give you the policy limits you need to meet your obligations.

So let us get started and learn some insider secrets that construction industry experts have known for sometime.
What Is Contractors Insurance?
If you are in the construction trade you have specific business insurance needs. But every business owner wants to save money on their business insurance policies. The most basic is affordable General Liability Insurance. Depending on your business you may need equipment insurance, business property coverage, commercial auto insurance, commercial property insurance, inland marine insurance, professional liability, workers compensation insurance and umbrella insurance. That may seem like a long list, but a general contractor may need these types of liability coverage and property damage protections.
So the real question is what does MY business need? The answers will be apparent in the next few paragraphs where I explore the above mentioned types of commercial insurance.
General Liability Insurance For Contractors
The most basic type of contractor insurance is Affordable General Liability Insurance. This protects you and your business from claims from third party injuries. It covers you from claims from bodily injury, medical bills and medical expenses that may result from you operating your business. It will also cover you for third party property damage claims.
You will also have personal and advertising injury coverage. It will also provide coverage for legal costs associated with any covered claim.
General Liability Covers

General Liability Insurance Cost for Contractors
Contractor Insurance Cost is subject to a number of variables. The main factors in insurance costs vary depending:
Type of contractor:

Some trades are riskier; a roofing contractor will pay more than a finish carpenter. The riskier the trade the higher the cost of general liability.

Location of business:

Insurance costs vary by location. As a general rule States like California and New York you can expect to pay more for general liability, further the City your contracting business operates can further increase your contractors insurance cost.

Claims History:

If you have claims you will pay significantly more for contractor insurance.

Policy Limits/Coverage limits:

You should never purchase a policy with less than a million dollars in coverage. The cost savings in getting lower limits is just not justified. For a commercial general liability policy the savings in most cases is less than $100.

Revenue/sales:

The more revenue or sales you have the more risk you are exposed to. So the more you make the more you will pay for your contractors insurance.
There are also a number of other factors that will affect the cost of a contractors insurance policy, but these are the most important.
Commercial Auto Insurance
If you use vehicles for income producing you need to obtain a cheap Commercial auto Policy. Most insurance companies offer a general package composed of three or four coverage types so the exact coverage depends on your own Commercial Auto policy. Your personal auto policy will not cover business uses if you are in accident These basic coverage types are:
Auto Liability coverage:

If you have to pay as a result of an at fault accident property and medical bills, Liability coverage will pay for covered claims up to the coverage limits of the policy.

Medical Payments Coverage:

Medical expenses coverage for everyone who was in the insured vehicle. This works regardless of who is at fault.

Physical Damage coverage:

This is your collision coverage. It covers any sort of damage done to the insured vehicle due to thieving, vandalism, weather conditions or any object (including cars). If your commercial vehicle gets stolen and some parts go missing; if your vehicle suffers damage during a riot or a storm of any kind; damage due to a car accident or any damaging object is dropped on or thrown at the vehicle.

Uninsured Motorist coverage:

If the insured vehicle is involved in a car accident and the other driver is at fault but is not insured or his insurance does not cover all of your expenses, your insurance company will pay your medical payment and insured vehicle repairs.
An affordable Workers Compensation Insurance covers you when one of your workers as the result of work related duties is injured. This is required by State law if you have employees. There are two parts to workers comp insurance:
1.- Part A
Employers Liability: The employer is held responsible for injury to employee. The most common limit for Part A is $500,000/$500,000/$500,000. These numbers mean the employer has coverage for $500,000 per person for disease,$500,000 per year maximum and $500,000 per accident.

2.- Part B
Part B is where the vast majority of claims are paid. Every state is different in regards to calculation of damages to an employee. How much compensation the employee should receive for damages is based on ability to perform future work, pain and suffering, lost wages, hospital bills, etc. There is no maximum amount of damages.
State Pools:

Since Workers comp is required by law State pools were formed to make sure that everyone is able to purchase workers comp for their employees. Policies are issued at a rate about 30% higher than the market, and they are assigned to insurance companies operating in the state based on insurance provider share of the market. Unless you are in a very low risk class code, most new businesses

"Ghost Policy" or "If Any" Policy:

This is a policy in which there are no employees and the owner of the business excludes themselves. The main reason for these types of policies are that they are required for larger contracts before they let you on a job site. They will generally require you to show proof of workers compensation insurance. There is a big trap you can fall into, if you hire subcontractors or independent contractors you must obtain certificates of insurance from them showing that they have workers compensation coverage. If you do not when the policy is audited the amounts you paid them will be considered payroll and you will get a big bill The cost for this policy depends on the State, but is usually about $1000 to $1500.

Audits:

it is important to remember that when you purchase workers compensation and general liability insurance, the rate you are paying is an estimate. It is based on the figures you provide your agent based on your expected sales. The rate does not become actual until your audit is complete. A workers Comp insurance audit is mandatory with every company and it is not a question of "if" you will have an audit. Your insurance policy is audited every year in most cases and usually happens between one and three months after your policy period is over. In some cases, with higher risk class codes, when you start out, they will audit you every three months in the beginning of your insurance period. Understanding you will have an audit, you will know what to expect and keep your workers compensation insurance costs down.
If you already know which insurances you might need give us a call right now, our representatives will guide you through the process or get a free fast quote today!
Inland Marine Insurance
Inland Marine Insurance is for business property, tools and equipment insurance coverage. It generally costs about 1% to 1.5% of the value of your tools. This coverage covers your tools and equipment wherever they go. Tools over $3,000 in value generally need to be listed, meaning your insurance company will need the serial number, year built, make, model and cost. Low Cost Inland Marine Coverage can save the day if your tools or equipment are lost or stolen.

Commercial Umbrella Insurance
A commercial umbrella is a policy that lays on top of your workers compensation, commercial auto and general liability policy offering extra coverage. The coverage works in increments of $1,000,000 and most companies have limits between $1,000,000 and $5,000,000 in coverage. The cost of this depends on the cost of your underlying coverage, but it is usually very reasonable.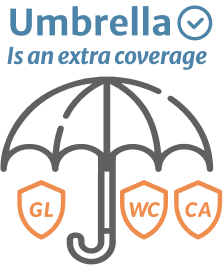 Your commercial umbrella policy only applies to increase coverage of underlying policies, such as your general liability limits. If you do not have a commercial auto policy you will have no coverage in the event of a vehicle claim.
Even if you do have certain types of insurance policies, an umbrella will not cover any property insurance claims, whether you have commercial property insurance or not. The same goes for errors & omissions insurance. The Umbrella will not cover any claims related to these types of policies.
An affordable Commercial umbrella policy costs around $450 a year for each $1 million of additional coverage.

Business Owner's Policy
Some small contractors may be able to get a Business Owner's Policy. This policy combines general liability insurance along with property coverage. It can cover your tools and equipment, your commercial property. It is a way to provide small business insurance at a lower price if you qualify.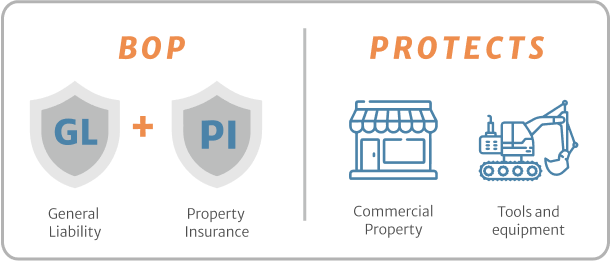 General Contractors Insurance Cost
General Contractor Insurance costs are based on four main factors. The first one is the size of your business. A small business with 6-7 subcontractors will have a lower insurance cost than a large construction business. The second factor is the type of work you do. If you are a high risk contractor, such as a roofer, you will pay more for insurance premium than a low risk contractor, such as plumber.
GL Insurance Cost is Based on:

The third factor is your claims history. If you have had a lot of claims in the past, your insurance will cost more than a contractor with no claims. The fourth factor is your credit score. If you have a good and well managed credit score, you will pay less for insurance than a contractor with a bad credit score.
The average cost of General Contractor Insurance is $500 per year. However, the cost can range from $200 to $2,000 per year. The best way to get an accurate insurance quote is to contact the licensed insurance professionals at Farmerbrown.com that specialize in contractors insurance.

How To Get Contractors Insurance
The first step is looking online for a reliable broker that can give you the best coverage options with a variety of insurance policies available in your area. If you want peace of mind, you'll want to contact an experienced agent that can understand your risks and shop for you the protection your business needs.
Contractor insurance can be a difficult process, but luckily for you there are experienced brokers who have helped countless people just like yourself get the proper coverage. At Farmerbrown.com we offer great deals on top-rated companies and wills help guide your every step of the way.

Advantages Of An Independent Insurance Agent
At Farmerbrown.com we can offer commercial insurance quotes allowing you to get the best small business insurance possible. Our experts can get you commercial insurance quotes in less than an hour.
We will shop for you with at least three different carriers. All of this will save you time and money by comparing insurance quotes from multiple providers, all with one call or one click. Our name says it all, we are the one stop shop for all your liability insurance needs.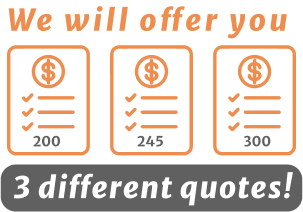 Give us a try and see why hundreds of contractors have given us 5 Star reviews!!
Top Tips From our Over 25 years of experience
General Liability Insurance
Look into the exclusions in your policy
Make sure your subcontractors have insurance or plan on paying an extra cost for them. Get certificates of insurance listing you as an additional insured before they start working.
If you perform different types of work, make sure your insurance company knows so. It often can decrease your costs and prevent a claim being denied for work not listed on your insurance application.
Your insurance application is a Legal contract. Read the application before signing it. If it contains errors the insurance company can use it to deny coverage if information is inaccurate.
Look into different coverage options between insurance companies. Most companies' policies offer the same coverage for common items such as bodily injury. It is the small things such as replacement costs for various items and what type of claims that may be excluded that vary greatly.
Understand that there are differences in policies. You want to use an agent that will offer you the best coverage. It is also important to read the policy to know what is excluded as well.
Your policy premiums are based on payroll or revenue. If you hire an uninsured subcontractor it will be considered payroll. That will be based on everything you paid them, even if it includes material costs.
Make sure to be diligent about collecting certificates of insurance. If someone you hire is uninsured, make sure you charge your client or your subcontractor appropriately for you will be paying for it later.
Workers Compensation
Make sure your subcontractors are insured or plan on putting 20% to 40% (depending on what work they are doing) aside to cover any additional premiums owed.
Make sure to pass the cost of uninsured subcontractors. You can either charge the sub or your client. Put money aside for your audit at the end of the policy period.
Keeping your workers compensation in force will help you build an insurance history which can save you big dollars after your insurance has been in force for 1 to 5 years.
Be diligent about collecting certificates of insurance from your subcontractors.
Commercial Auto
Buy It! Your personal auto policy can deny coverage if you are in an accident using your vehicle for work. It is a write-off and not much more expensive than personal insurance anyway.
Add your trailers onto the policy or there is no coverage for them in regards to liability. It only usually costs about $50 to $100 per year.
Inland Marine
Make sure you schedule your tools that are over $2500 per item.
Equipment Insurance Costs are usually about 1% to 1.5% of the value of your tools.
Commercial Umbrella
Make sure you have a quality underlying insurance company or it may be very hard to find a commercial umbrella. Cost is based on work performed and cost of your underlying insurance company.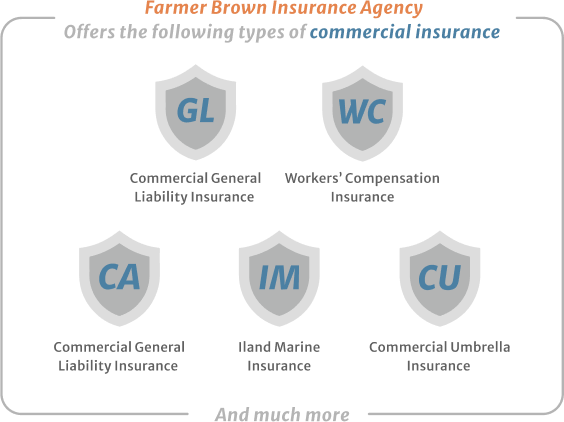 Let Farmer Brown experts guide you through the insurance process,
We've been working with Contractors for more than 20 years.