4. Contractors Liability Insurance Protects You From All Third-Party Claims
Did you know that general liability insurance for contractors protects you from most third-party claims, not just those from your client? Most general liability policies will cover you for damage or harm done to other parties that are also present on the property where you're working.
This means that if there are other contractors working on the job site or people other than your client on the property, your insurance will cover them too. If injury or damage to property is caused to any of these parties as a result of your actions, your contractors' general liability insurance will likely cover it.

For instance, say one of your employees was removing nails from a beam, and another contractor's vehicle pulls up. By a stroke of bad luck, one of the nails is lying upright in the driveway, and the contractor's truck happens to drive over it, resulting in a puncture. If the cost of repairing or replacing the tire is more than your deductible, the insurance company will cover the excess.
In a different scenario, say a visitor trips over a power lead of yours and breaks their wrist. Because they are a third party on your job site, your contractor insurance should cover any expenses should the third party wish to make a claim.
If you are thinking, "But what are the chances of having to ever meet a claim like this?" take note that according to statistics, there are 71% more non-fatal injuries on construction sites than in any other industry.
If you are doing work on a client's property, you are essentially turning it into a construction site. During this time, anybody who is moving through the area has a heightened risk of injury.
5. It Also Covers Injury and Damage Occurring From Completed Projects
Another way that contractors' liability insurance will protect your business is that it covers you for damage or injury resulting from projects you have already completed.
Say, for instance, you install a handrail for a client's staircase. A week after installation, the handrail comes loose, a family member grasps it, falls and breaks their arm, and the rail goes flying and cracks a glass sliding door.
If you have general liability insurance for independent contractors, this should cover any costs claimed by the client.

Take note that general liability coverage will not cover projects that the client is simply dissatisfied with. However, if a project is the direct cause of damage or injury, you should be able to claim the associated costs from your liability coverage.
6. Advertising Claims
False advertising claims are on the rise, and most businesses would do well to protect themselves from these. Although it is not highly likely as a general contractor that you would have a false advertising claim laid against you, the possibility is always there. General liability policies often provide coverage for false advertising claims.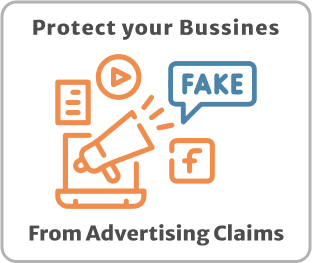 Another type of advertising claim that can be hard to combat are accusations that your business is duplicating another similar business's marketing tactics. If you have contractors' liability insurance, this will cover you against any damages through these types of claims.
Some general liability insurance will even provide cover for cases of slander.
7. Having Contractor Insurance Protects Your Reputation and Establishes Trust
Besides protecting your business financially, having contractor insurance also safeguards its reputation and establishes trust with potential clients.
If your contractor business does not hold insurance, it's easy for clients to see you as an unprofessional operation. On the other hand, if you have adequate liability coverage, this shows potential clients that yours is a professionally run business.
What's more, it also reassures clients that should there be any damage to their property from your services; they won't have to foot the bill.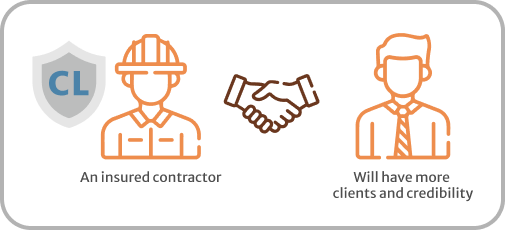 If you take a moment to look at any of the online guides on how to choose a good contractor, most of them will say go for licensed and bonded ones. If your contractor business is insured for general liability, clients will immediately see you as a cut above any that are not insured.
According to estimates, there are currently over 700,000 construction companies in the US. Depending on your location, the competition might be stiff, which means you need to do everything you can to stand out from the pack. Getting general liability insurance for independent contractors is one way you can accomplish this overnight.
Once you have been approved for your general contractors' insurance, make sure you advertise this on your website and marketing materials.
8. An Add-on Can Also Insure Your Equipment
One thing that contractors' liability insurance does not cover is equipment. If your tools or equipment breaks, you will not be able to claim for this under general liability coverage.
However, the good news is that you can easily insure your tools and equipment as well by purchasing an add-on. Depending on your insurance provider, you may find that an add-on is cheaper than taking out separate cover for your equipment.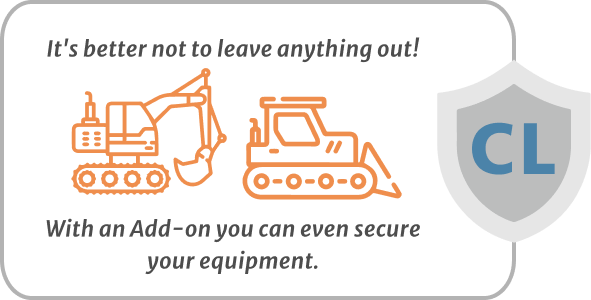 Opting for an equipment coverage add-on can save you money in the long run, and it can also guarantee that your business's operations never have to suffer because you can't afford to replace a malfunctioning piece of equipment.
Entrusting your equipment to employees often comes with the risk of breakages and decreased lifespans. Considering that tools and equipment are essential to most contractors' businesses, insuring them is usually a smart option.
Protect Your Business Today With General Contractors' Insurance
General contractors' insurance is not just a nice-to-have. In some states, it's the law. However, regardless of the state you live in, general liability insurance for contractors can protect your business from claims laid against you due to property damage or accidents.
Sometimes these types of accidents are unavoidable, so don't assume that just because you run a tight ship, you don't need coverage.
Ready to start protecting your business with contractors' liability insurance? If so, you have come to the right place. Here at Farmer Brown, it's our business to connect you with the right insurance offers to suit your individual requirements.
To get started, all you have to do is fill us in on your needs by telling us about your business. Once we know what your unique requirements are, we will match you up with the optimum policy. From here, you can choose between multiple financing and payment options.

You will then be issued with your certificate of insurance and be able to access our 24/7 support whenever you need it. Simply fill out this quick form for a free quote, or call us today!